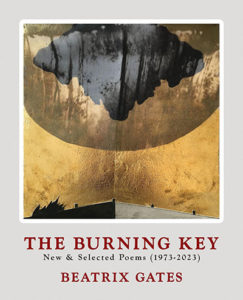 SACRAMENTO, CA – Thera Books is thrilled to announce the forthcoming publication of poet Beatrix Gates' The Burning Key: New & Selected Poems (1973-2023) on August 17, 2023. Featuring new work, poetry from limited editions, and selections from previously published books selected by the author, The Burning Key is a meditation on hope as resistance.
Publisher's Weekly has hailed Gates as an artist that, "[T]akes seriously both the daily news with its constant abuses of power, and art's power to create news that stays news." The Burning Key is a testament to the communities and legacies that sustain intimate relationships and bridge intergenerational social movements. A student and teacher of history, Gates's literary legacy lies in her unflinching awareness that brings wounds to surface and violence to account, commemorating necessary truths with clear-eyed accuracy as a member of the LGBTQ+ community. The voices needed for these stories connect through the poet's eyes, mind, and heart. Gates says, "I have a need to connect and stay curious. Connecting is about survival in dealing with the world." Poet Fanny Howe praises Gates' work, "The poise of these poems can't subdue the deep feeling in them. Gates—daughter and activist, teacher and friend—recount[s] visions and events from the late 70s on, lifts it all up and lets it fly again."
The Burning Key will be published by Thera Books, a California-based literary press dedicated to publishing boundary-pushing books from emerging and established authors. Founded in 2019 by author Donnelle C. McGee, Thera Books invests in diverse authors committed to contributing unique perspectives and timeless insights to our collective social, cultural, and spiritual conversations.
"Thera Books is honored to be publishing The Burning Key," says Thera Books founder Donnelle McGee. "Gates reminds us that at the heart of a life lived are the poems that keep us open to transformation and love."
"Publishing with Thera Books, an indie press from California where I began my love affair with making books by hand, is thrilling," says Gates. "To stand with courageous publishers and welcome books produced with love and a commitment to truth-telling is the right thing at the right time. Donnelle McGee has made that commitment."
Pre-orders for The Burning Key begin on May 20, 2023 through Thera Books' website thetherabooks.com. It will be officially published on August 17, 2023, and available to purchase directly from Thera Books, via Barnes & Nobles, and Amazon.